My dear wife has the book,
Eat Fat, Lose Fat,
by nutritionist Mary Eng and Sally Fallon. This book advocates oil-centric diets with scientific-seeming arguments about the benefits of coconut oil. It reads like faddish pseudoscience to me, although I think it is well established that Atkin's like high fat diets do lead to weight loss -- although at the expense other negative health effects.
Coconut oil, while a saturated fat, is made from shorter chain fatty acids, and it is more easily metabolized by the liver than longer fatty acids, most especially palmitic or oleic.
I think that the widespread negative opinion of coconut oil was informed by data like the fatty acid source table at the bottom of this post. That table that lumped all saturated acids shorter than C-16 together. That table certainly makes coconut oil seem awful. Learning that there are more medium length oils reopens the topic.
There is a
very sensible article on coconut oil by Craig Hassel on the University of Minnesota website.
He addresses the coconut oil fad, and concludes that it is not as bad as people thought a decade ago. While coconut oil contains 60% medium fatty acids of C-12 or less, it also contains 40% palmitic and myristic acids which are known to increase blood cholesterol. His point about the health effect of coconut oil, that it depends the other food which coconut oil displaced in the diet. If one replaces butterfat with coconut oil, great. If one replaces olive oil, then the effect on cholesterol will be negative.
This conclusion avoids the discussion of the secondary medical benefits of the acids, most specifically caprylic and lauric. I need to read up on that further. Caprylic is only present at 12% though. My intuition is that caprylic acid may be more medicinal than other fatty acids, and that it should be used with care: in controlled amounts.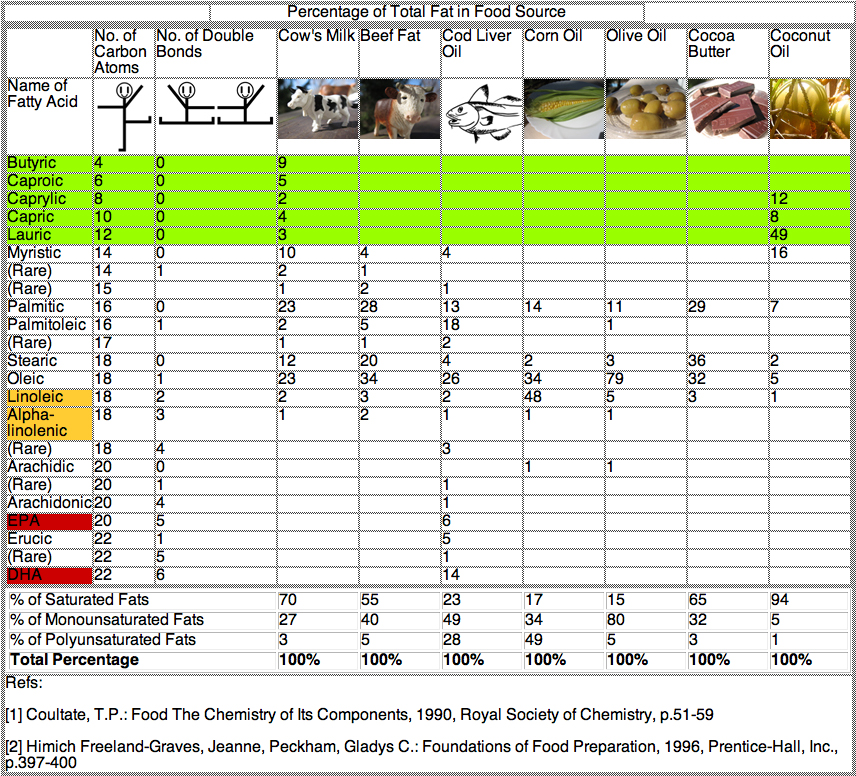 Source:
Table of Fatty Acids

Acid
Name

Structure

Melt
Point

Graphic
Chime

SATURATED

Lauric
CH3(CH2)10COOH

+44

Graphic
Chime
Palmitic
CH3(CH2)14COOH

+63

.
Chime
Stearic
CH3(CH2)16COOH

+70

Graphic
Chime

UNSATURATED

Oleic
CH3(CH2)7CH=CH(CH2)7COOH

+16

Graphic
Chime
Linoleic
CH3(CH2)4(CH=CHCH2)2(CH2)6COOH

-5

Graphic
Chime
Linolenic
CH3CH2(CH=CHCH2)3(CH2)6COOH

-11



Chime
Arachi-
donic
CH3(CH2)4(CH=CHCH2)4(CH2)2COOH

-50

Graphic
Chime
Data from:
http://www.elmhurst.edu/~chm/vchembook/551fattyacids.html
Below is an even better table:




.

fatty acid percentage in oil



Seeds

Polyunsaturated

Monounsaturated

Saturated



Name

Fat Content in seed


(%)


LNA


18:3w3


(%)


LA


18:2w6


(%)


LNA+LA


w3+w6


(%)


18:1w9


(%)


18:0


(%)


16:0


(%)


Total


(%)




hemp

35

20

60*

80

12

2

6

8



chia

30

30

40

70

-

-

-

-



kukui

30

29

40

69

-

-

-

-



flax

35

58

14

72

19

4

5

9



pumpkin

46.7

0-15

42-57

57

34

0

9

9



soybean

17.7

7

50

57

26

6

9

15



walnut

60

5

51

56

28

5

11

16



wheat germ

10.9

5

50

55

25

18

0

18



evening primrose

17

-

81**

81

11

2

6

8



safflower

59.5

-

75

75

13

12

-

12



sunflower

47.3

-

65

65

23

12

-

12



grape

20

-

71

71

17

12

-

12



corn

4

-

59

59

24

17

-

17



sesame

49.1

-

45

45

42

13

-

13



rice bran

10

1

35

36

48

17

-

17



cottonseed

40

-

50

50

21

25

-

25



rape(canola)

30

7

30

37

54***

7

-

7



peanut

47.5

-

29

29

47

18

-

18



almond

54.2

-

17

17

78

5

-

5



olive

20

-

8

8

75

16

-

16



avocado

12

-

10

10

70

20

-

20



coconut

35.3

-

3

3

6

0

91

91



palm kernel

35.3

-

2

2

13

0

85

85



beech

50

-

32

32

54

8

-

8



brazil

66.9

-

24

24

48

24

-

24



pecan

71.2

-

20

20

63

7

-

7



pistachio

53.7

-

19

19

65

9

-

9



hickory

68.7

-

17

17

68

9

-

9



filbert

62.4

-

16

16

54

5

-

5



macadamia

71.6

-

10

10

71

12

-

12



cashew

41.7

-

6

6

70

18

-

18



neem

40

1

20

21

41

20

-

20



















* Includes up to 2% GLA - Gamma Linolenic Acid

** Includes 9% GLA

*** Includes up to 5%erucic acid

* Includes up to 2% GLA -
Gamma Linolenic Acid
** Includes 9% GLA
*** Includes up to 5%erucic acid